What are the benefits of HannaH?
Intuitive
In addition to a modern and intuitive interface, all calculations are automated and numerous aids guide you. You can also benefit from unlimited telephone support.
Reliable
With over 30 years of expertise in financial solutions, HannaH offers you reliable, professional forecasts that comply with the latest legislation.
Fast
Save invaluable time by quickly importing your data via Excel or from your accounting software and benefit from automated calculations.
Flexible
Consider all possibilities, simulate them and compare different forecasting scenarios thanks to HannaH's extensive encoding possibilities.
Financial plan for incorporation
HannaH allows you to draw up financial plans for any business creation. Starting from a blank sheet of paper or a balance sheet specific to a sector of activity, illustrate your project or your situation in a very precise way.
HannaH offers you reports that meet the requirements of the CSA, notaries and banking partners.
Draw up financial plans for a period of 1 to 20 years. The duration of the first exercise is variable from 1 to 24 months.
Financial simulation for existing SMEs
Whether it's for new products, services or investments, HannaH can help you create objective, realistic and reassuring financial plans.
By choosing HannaH, you choose to give yourself the comfort of knowing you have all the cards in place to achieve your goals and the ability to appeal to third parties such as bankers and investors.
Budget et prévisions
d'entreprise
Pilotez au mieux le quotidien en commençant par établir le budget de l'année. Qu'il s'agisse de nouveaux produits, services ou investissements, HannaH vous permet d'établir des prévisions financières objectives, réalistes et rassurantes. En choisissant HannaH, vous choisissez de vous offrir le confort de posséder toutes les cartes nécessaires à la réalisation concrète de vos objectifs et la possibilité de séduire des tiers tels que les banquiers et investisseurs.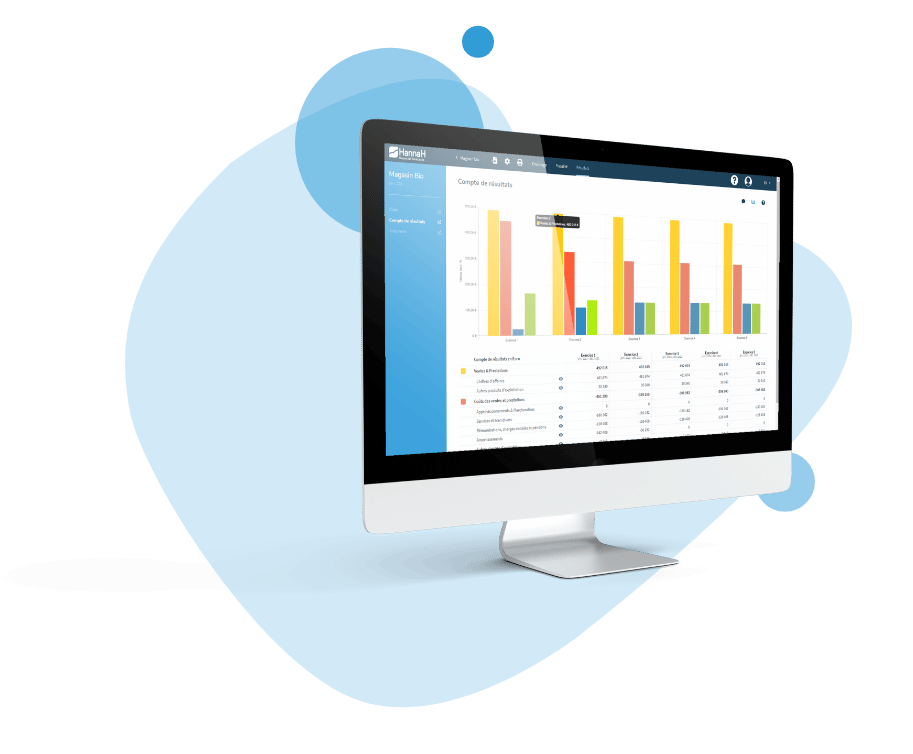 Budget follow-up
Do you want to analyse past results to better anticipate the future? Our monitoring module helps you to visualise the differences between the financial forecasts and the actual figures but also the impact of the actual on the cash flow projection for the rest of the year.
Double liquidity test
Performing a double liquidity test has never been easier with HannaH.
From your accounting balance, establish your liquidity and net assets test in order to validate a possible distribution of dividends or tantièmes. HannaH then provides you with a report that complies with the CSA requirements.
Double test de liquidité
Réalisez un double de test de liquidité n'a jamais été aussi simple avec HannaH. A partir de la balance comptable de l'entreprise, établissez vos tests de trésorerie et d'actif net afin de pouvoir distribuer les dividendes. HannaH vous propose un rapport conforme aux demandes du CSA pour le double test.
Judicial reorganisation procedure
Take advantage of HannaH's precision to develop your recovery plan in detail. Then compare your budget with actual figures and monitor the company's recovery plan in real time.